A volunteers journey – read what Mags has to say
7th
Jul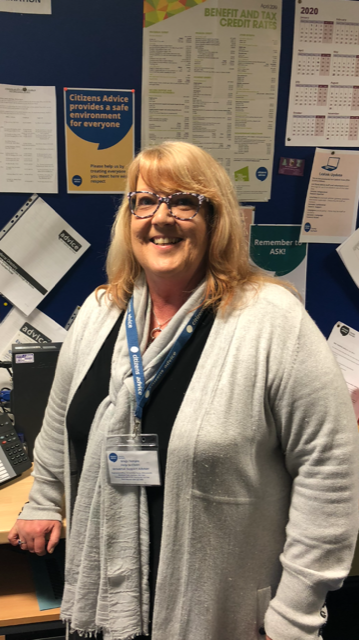 July 7, 2022
Volunteering for us brings a wide range of benefits and opportunities, not only for the people helped but for volunteers themselves.  Read Mag's journey here.  Volunteer for us today
"I was made redundant in 2016 after 30 years' service and was absolutely devastated.  I had planned my early retirement, to join my partner, and was expecting to see my working life out at a company and job I loved.
A couple of months on, I was very down and feeling dejected after claiming JSA and reporting to the Job Centre every 2 weeks.  I'd applied for many jobs but my heart just wasn't in it and I didn't even get a "thanks but no thanks" which just made my mental health so much worse.
I was on a training course at the Job Centre for the over 50's and got talking to a lady who volunteered at Citizens Advice County Durham on Adviceline. We chatted a bit about what this service entailed and at this time I didn't even realise CACD was a charity. The idea of helping and supporting local people as well as supporting a charity, really appealed to me and I had previous call centre experience.
I meet CACD, had an informal chat, and during this time, I decided I had the right skills and temperament and wanted to help people in County Durham. And so the journey began. 
I was fully trained into the role on Adviceline where I volunteered a couple of days a week.  Once I was used to the processes and systems and had proved my ability, I was involved in helping to train new starters and occassionally covered the coordintors role when she was on leave.  I loved every minute, the job satisfaction, helping local people was a tremendous tonic and helped my mental health considerably and also boosted my self-esteem.
I was then approached to help in the Warm Homes team and then onto the Help to Claim project where I am now the Help to Claim Service Manager.
Working for CACD both as a volunteer and now an employee, working with like-minded people wanting to help, support and empower the people of County Durham to improve their skills and circumstances is so rewarding. I can genuinely say "I love coming to work again" – which 5+ years ago I would not have thought this possible."
Has Mag's story inspired you?  If so, we'd love to hear from you.   Get in touch for an informal chat.
Categories: Staff & Volunteers, Success Stories, Volunteer Recruitment, Volunteer Week, Volunteering