Meet David, once a volunteer for us, now a member of staff
4th
Mar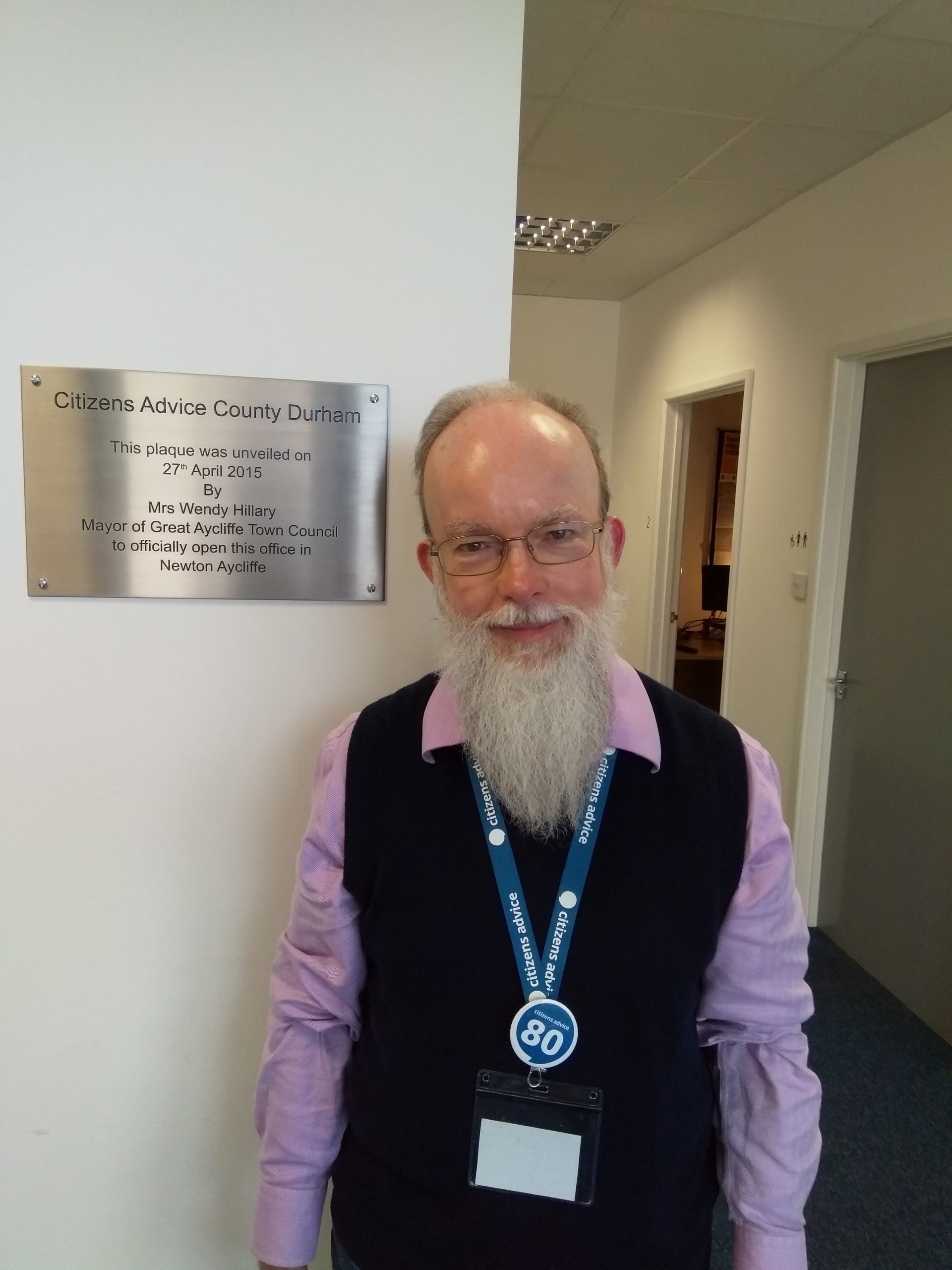 March 4, 2022
Meet David, one of our advisors.  David started with us as a volunteers and is now a member of staff.
Read David's journey, you may be inspired to volunteer for us too.
When did you first have contact with Citizens Advice County Durham?
My first contact was in the autumn of 2012. I went on a sabbatical from work to help and care for my elderly mother. After she died, I decided not to return to my job on the south coast and to remain in the area where I grew up. I decided to do some voluntary work in the community and, through the Volunteers' Bureau in Chester-le-Street, I contacted Citizens Advice. The rest is history.
What made you decide to volunteer with us?
The national research and campaigns work of Citizens Advice had impressed me for many years. I also knew someone who had worked in the Chester-le-Street bureau in the 1980s who had told me about their work. I realised that Citizens Advice Bureau had such an important role in the local community, was visible, and could help people in so many ways. I'm very people-focused and I wanted to make a difference to people. The advice services co-ordinator interviewed me and was very friendly, warm, caring, sensitive and encouraging. I started training in early 2013. I found it easy to get involved with Citizens Advice.
What makes you most proud to work for us?
The people who work for the organisation, staff and volunteers, come from such diverse backgrounds, have a very wide experience of life and a broad range of knowledge. We all want to help people at their point of need, whoever they are and we all help each other to do the best job we can. There's a really good team spirit.
Did you have any fears or worries about becoming a volunteer?
I remember feeling rather anxious about doing something new and about how quickly I would adapt to the Citizens Advice way of giving advice. The amount of initial training seemed to be understandable but rather daunting. Once I started interviewing clients, I became comfortable very quickly and found that the training made sense and that my colleagues and the advice services co-ordinator were all warm, supportive and helpful.
Did you have any fears or worries about going from volunteer to staff member?
After spending five years as a volunteer, I was rather concerned about how I would re-adjust to working four or five days per week. I found that I adapted to the new routine very quickly. I was also concerned about the time pressures that the job would bring but, again, I've adapted to them. I saw the jump as a development opportunity and am really glad that I made the leap!
Why did you join the Help To Claim (HTC) team?
While volunteering, I was surprised to find that I really enjoyed helping clients to apply for benefits and to appeal against Department of Work and Pensions benefit decisions. Joining the Universal Credit Help to Claim team seemed to be a logical progression. I feel passionate about helping people who I believe are being treated unjustly or if they are being asked to do things which are well beyond their ability. I'm gentle, sensitive, caring and a good listener. I thought that my personality would suit the role and it does. I also liked the Citizens Advice County Durham team so much that I wanted to join them!
Are you interested in becoming a volunteer after listening to David's journey?   Has David inspired you? Then why not read the benefits here and contact us for a no obligation informal chat.  We'd love to hear from you.
Categories: Staff & Volunteers, Success Stories, Volunteer Recruitment, Volunteering